SALES JOURNEY
Have all your sales reps master the sales process, effortlessly!
Improve your bottom line and CSI in one fell swoop
Request Demo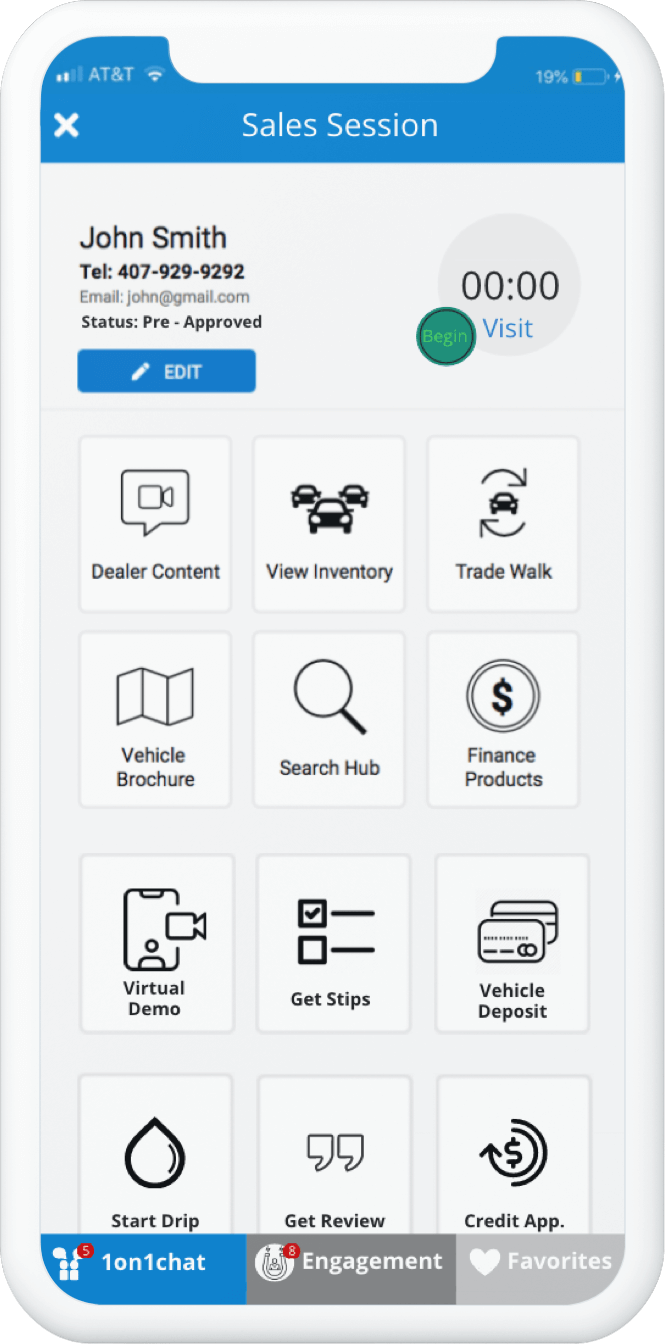 Enable all your reps, from rookies to veterans, to execute your sales process seamlessly, everytime. Driving profitability while providing an amazing experience to every customer, consistently.
Lot Walk
Have your reps quickly transition on-lot customers to the showroom. By confidently walking the lot with customers, knowing that in their palms they have all the assistance they need to be product experts and the credible pricing display to gain the customers trust. So they can quickly move customers inside.
Vehicle scanning: Scan the vehicle's barcode to quickly show the customer any information they are wanting to know on a pre-owned or new unit.
Instantly pull up the list price on every unit on the lot and build credibility by showing it to the customer in a professional vehicle profile view.
Have readily available all the specifications of every pre-owned and new vehicle on the lot.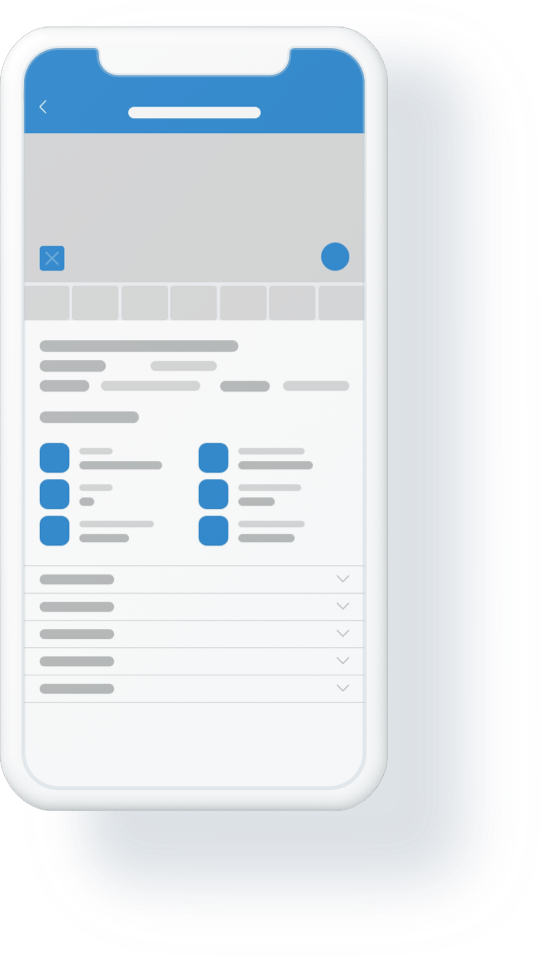 Sales Engage
Help your reps keep the momentum of the sale always moving forward. Throughout the sales process, every instance where the customer is left alone, quickly share vía sms text digital material that keeps the customer engaged. Instead of searching online.
When getting up for T.O. early in the process, set the stage by quickly texting customers a personalized web page with videos about why they should buy from your Dealer and videos with your current offers showing why buy now.
Fill the Needs Analysis with the customer and automatically share with the Desk Manager, so you can stay engaged with the customer.
Easily share with customers vía sms text digital vehicle brochures to keep control of their attention in those vulnerable moments they are left alone.
Seamlessly transition customers to F&I, by sharing vía sms text a personalized web page with videos about why it's important they protect their investment and different ways they can do so.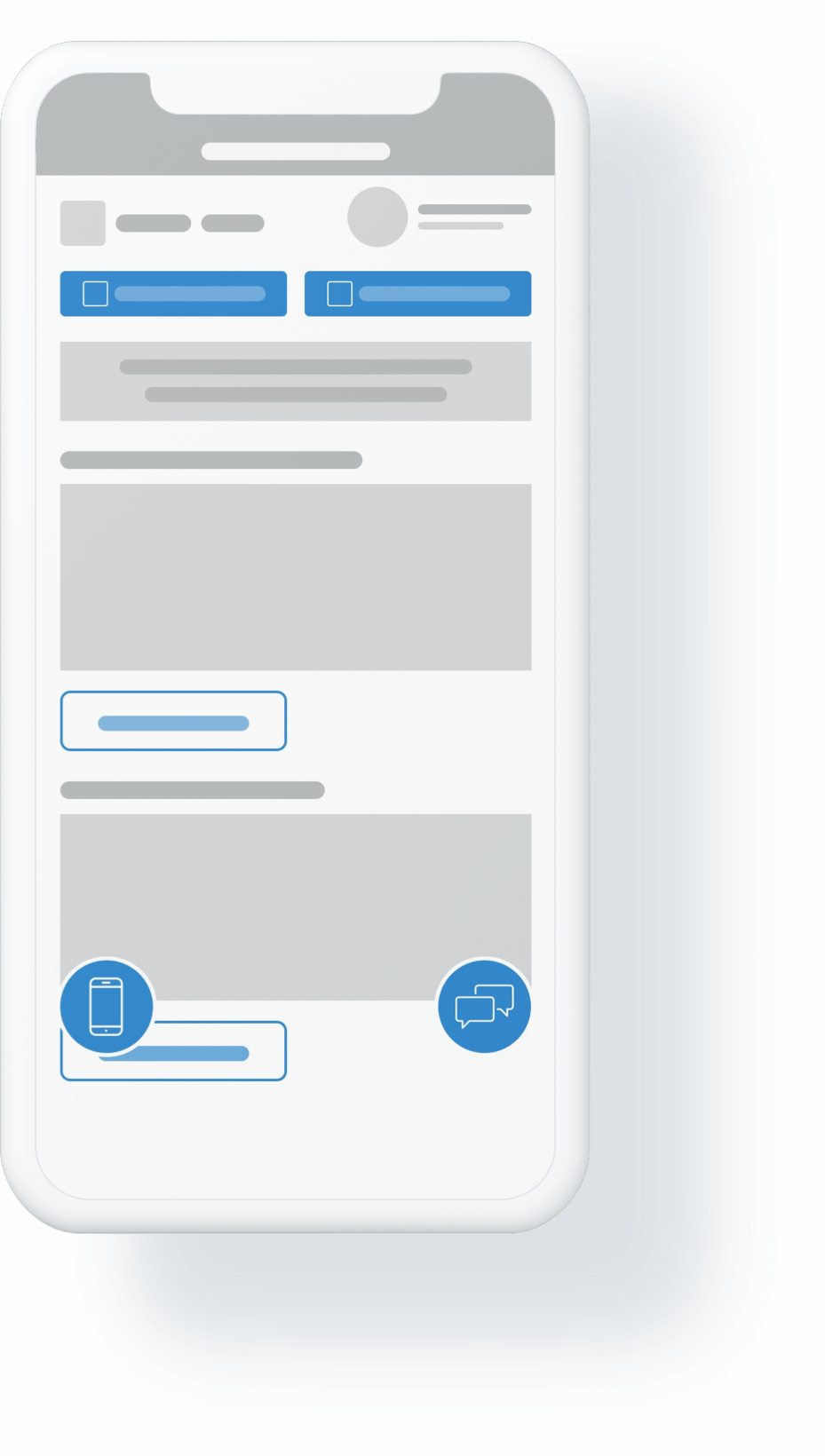 Vehicle Selection
Streamline the vehicle selection process by giving your reps the ultimate showcasing app. Using smartphone or ipad, showcase entire vehicle profiles with photos, videos and specs, without entering Dealer Website and risking sabotaging margins with internet prices.
Stay tethered to the Desk manager and never kill momentum showing wrong units. With the contextual 1on1 chat Desk manager will provide input along the sales process. From sharing in real time actual vehicle profiles to show customers, to communicating timely info to best stear the sale.
Beautiful vehicle profiles with photos, videos and specs that do not show internet prices. Allowing for a risk free vehicle selection process.
Mark under the customers favorites all the vehicles that they show an interest in. Easily access and refer to customers favorites list throughout the selection process to view and compare between the different vehicles they like.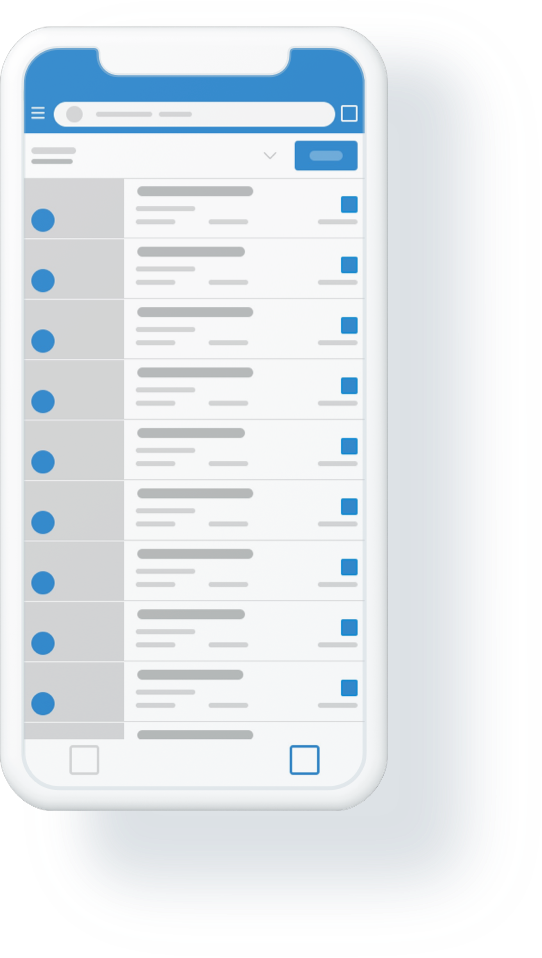 Trade Walk
Involve the customer in one of the most crucial parts of the sales process, the trade walk. Easily share with the customer vía sms text, a personalized web application to evaluate their trade together. Along with the customer walk their trade and have them rate and photograph it.
Send customers a personalized web app so they can participate in the trade walk by providing ratings and photos as the vehicle is inspected together with them. Effectively keeping momentum moving forward by eliminating the possibility of emotional resentment often experienced when customers see staff "kicking the tires" of their vehicle. Also eliminates extremely vulnerable period where customers may start searching online as they wait.
No matter if your customer is at the Dealer or at home, the trade walk will run smoothly. Creating customized workflows that send the trade evaluation to the person and systems needed to provide appraisal.
Automatically receive the trade evaluation info into your vAuto account or CRM.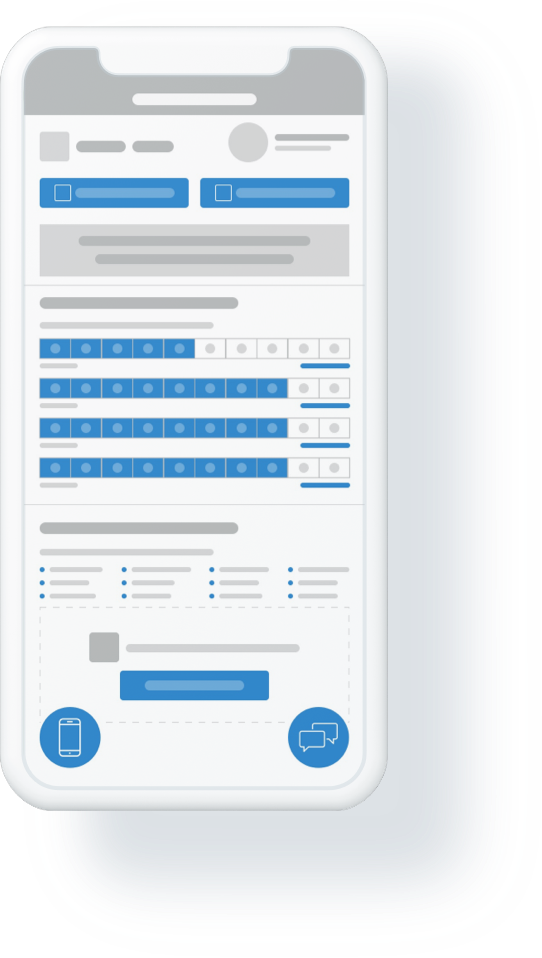 Remote Sales
Facilitating a fully or partially remote sales process has never been more important to keep a sales momentum. Seamlessly switch between tending to the customer on-site and remotely.
Have video conferences with customers without any complexity, no meeting id's, no apps to download, simple. With the tap of a button, send customers a link vía sms text that as soon as they click it will connect them to a video conference in their mobile or desktop browser.
Get funded on time by getting those much dreaded last documents needed to complete the sale. Send customers a personalized web application vía sms text, asking them for the missing stips. Make it extremely easy to provide, by tapping on a button and snapping a quick picture or uploading from a file. Receive notification as soon as the customers upload stips.
Make it easy for customers to reserve vehicles and pay Doc Fees, without having to get pictures of CC, signing a paper or emailing a waiver. Instead, just send customers sms text that opens a personalized portal where they can quickly pay using CC or ACH account.
Easily send personalized pre-approval web forms vía sms text. Get notified as soon as the customers completes it and automatically push it into Dealer CRM.
Accelerate the momentum by following up with customers as they are actively engaging with any of the web applications, forms or vehicle profiles you have shared. Receive real time push notifications when customers are engaging with any of the digital assets you have shared. Also measure when customers are not really engaged in the sales process and follow up.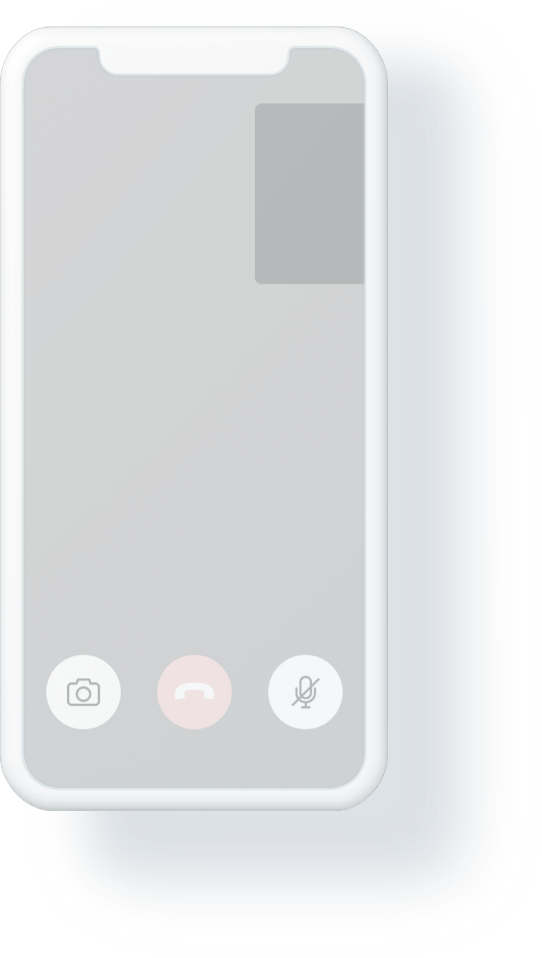 More Features
Search Hub

Have your reps finish the sale without any hiccups or wasted time by instantly finding contact info for every insurance agency and bank. Make sure they have the correct payoff address, everytime. Quickly access the payoff address and contact number for every bank and share with customers via sms text.

Drip Follow-ups

Make your reps super human with incredible post sale text and email follow-ups. Also create more be-backs by automatically sending follow-up texts to every customer that hasn't closed.

Delivery

Be completely compliant with the manufacturer delivery process and minimize any potential liability by streamlining this part of the sales process. Have your reps do a vehicle walkaround and quickly document by tapping on the vehicle diagram any damages along with quickly snapping a pic. Receive push notification as soon as your rep completes it and have it organized and accessible for reference.

Get Reviews

We know customers buy from places they trust. Make incredibly easy for your reps to get reviews by sending sms texts a clickable form new customers can easily and quickly fill out. Reviews sell cars, period.

One liner

Stay tethered to the customers at every turn throughout the sales process. Provide push-to-text and push-to-call from all the shared content/form pages to keep communication alive every time away from the customer.