My dealer
Turn your reps into prospecting machines, overnight!
Facilitate success, increase work satisfaction, reduce turnover,
all while generating more leads.
Request Demo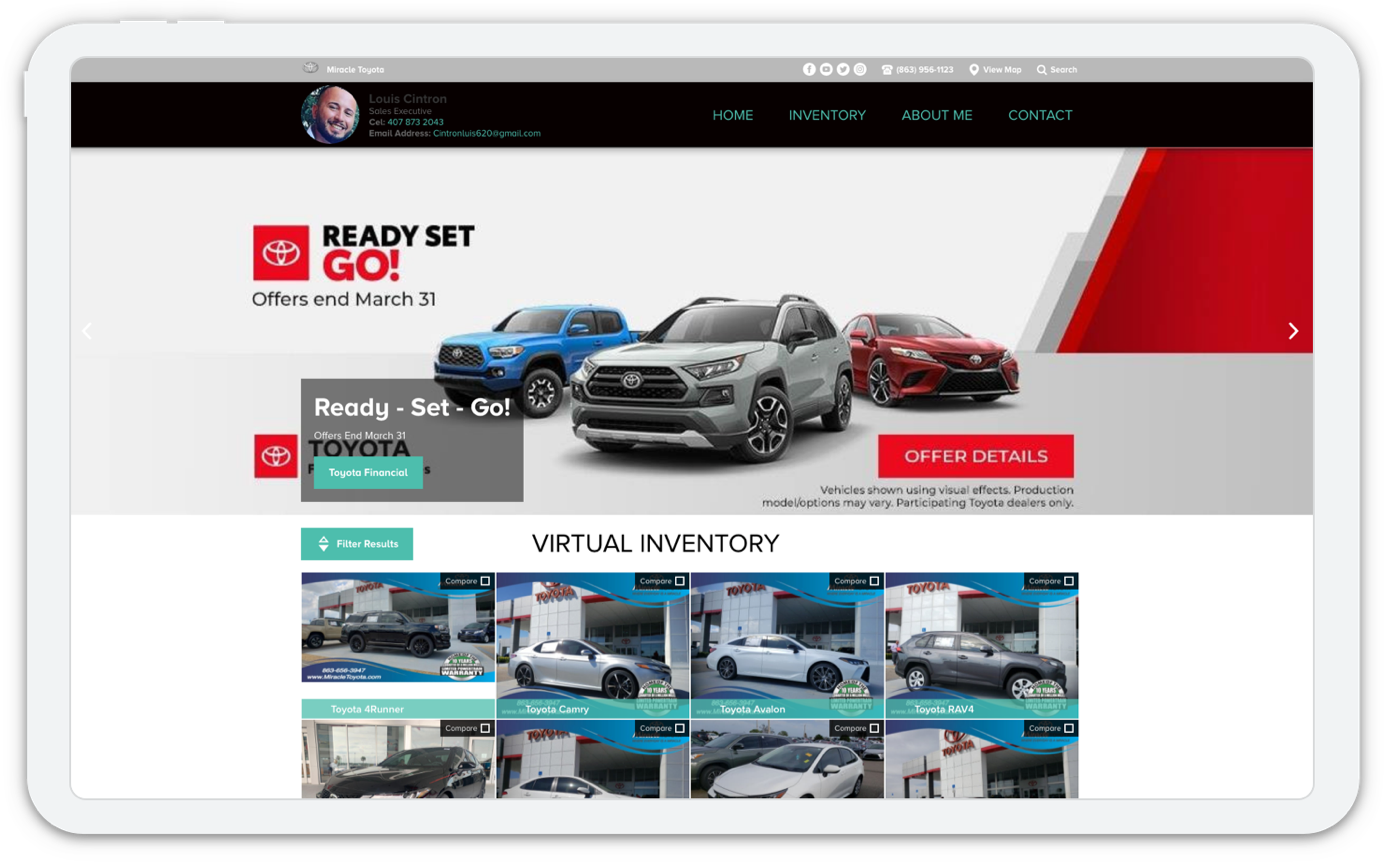 Empower your reps to be in full control of their success. Give them each their own digital Dealer operation and watch them turn into lead generating machines. Putting them in full control of their own success. While increasing the amount of monthly leads for the Dealer, and driving down the average per lead cost.
Rep Profile
Give your reps the ability to create and leverage their own personal brand, with a personalized website featuring entire inventory and lead conversion tools. Allowing them to directly receive every single lead generated through their website, will make them feel empowered. Put them in the driver's seat without having to give up any of the control, by having every single lead they generate come into your CRM as well
Allow your reps to leverage their own personal brand without losing control of the customer experience. Every rep website will have the look and feel of the Dealer identity. Along with control for all the home page banners and offer banners displayed on the websites
Expand the reach of your reps with native bilingual domain names and content. Have your reps share their personal website with an English or Spanish domain to maximize conversion. Based on which domain the reps share with the customer the website will dynamically adapt all the content to the corresponding language.
Instead of handing a physical biz card that customers end up losing, have your reps share a digital one instead. The rep websites allow their customers to download a digital contact card right to their phone's contacts.
Reps can provide their customers with the user friendly experience they have come to expect from the Dealer Website. With powerful filters customers can easily and quickly find the vehicles they are interested in.
Get your inventory in front of more people by allowing your reps to showcase the entire inventory on their personal websites. With a direct integration to the Dealer DMS, each rep will be able to get the entire inventory in front of every single customer they prospect.
Give your reps an easy way to generate referrals. With the referral generation form, reps can share a link directly with their customers and generate referrals easily and organically. All while creating a way for the customer and rep to keep track of each referral made.
The power of a Demo is clear, so help your reps book more test drive appointments. With the appointment booking module in each vehicle detail page, customers can easily and quickly book appointments to test drive the vehicle of their choice right from the reps personal website.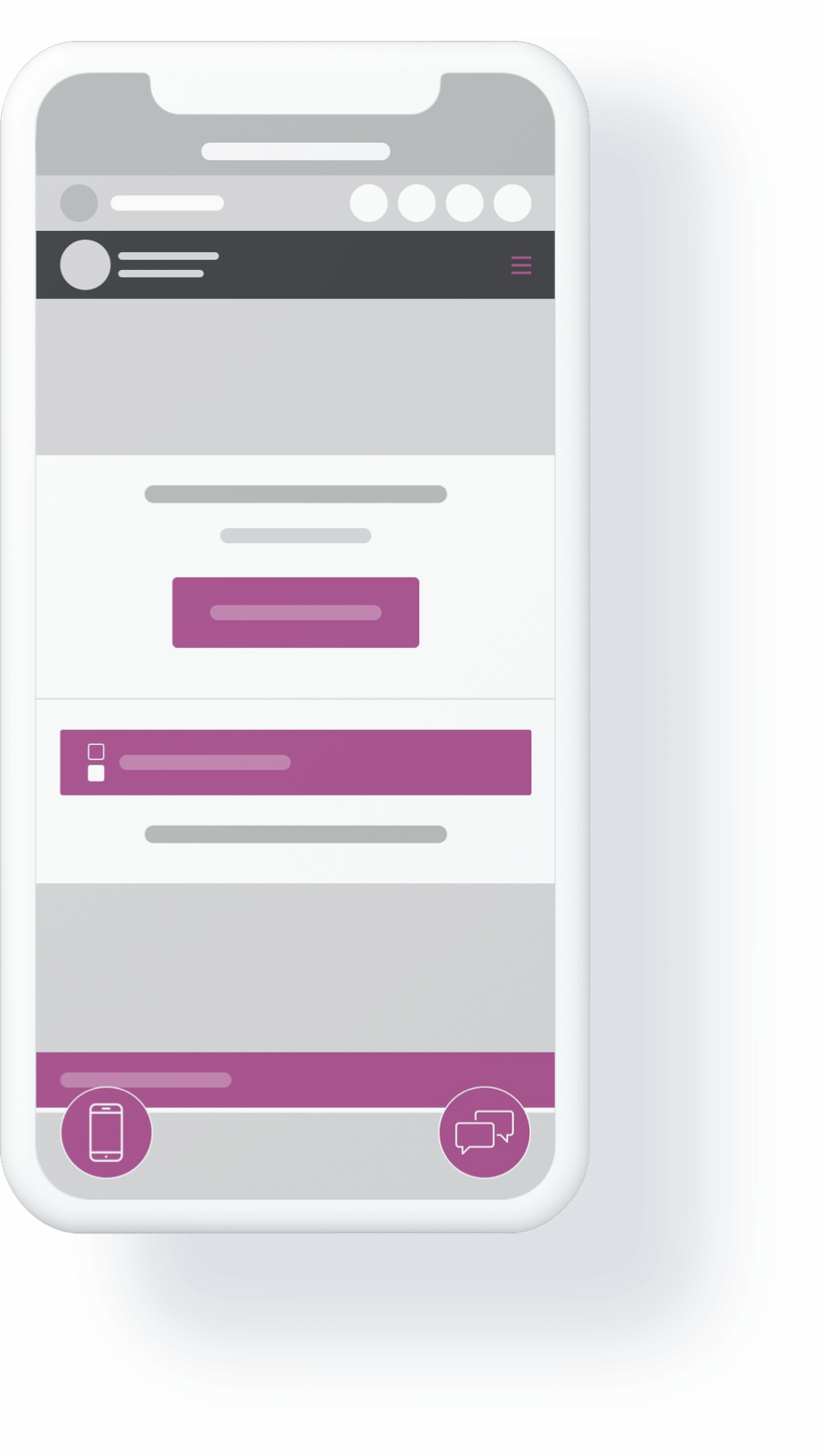 Mobile Dealer
Increase sales by handing your reps the keys to their own mobile Dealer. Allowing them to be just as productive when they are not at the Dealer. With the entire inventory in the palm of their hands and the tools to search, showcase, promote and share vehicles from anywhere, reps will thrive.
Turn your reps into product experts on and off the lot. With updated inventory information your reps can quickly manage every situation off the lot, availability, showing, specifications, pricing, etc.
Having your reps tap into their social networks is one of the easiest ways to grow your lead generation process, at no cost to the Dealer. With direct posting into Facebook pages, reps can post all the pictures of one or multiple vehicles with a single tap.
Because having your reps get information over the phone is extremely inefficient and cumbersome. Instead, help them quickly send customers, via sms text or email, a personal finance application landing page. Where they receive the submitted application information directly and the Dealer receives it in the Dealer CRM.
Allow your reps to facilitate the down payment process for their customers. With their own ePayment module, reps can have any of their customers start the purchase process of a vehicle by accepting down payment of any vehicle directly from their own landing page. With the funds being deposited straight into the Dealers bank account.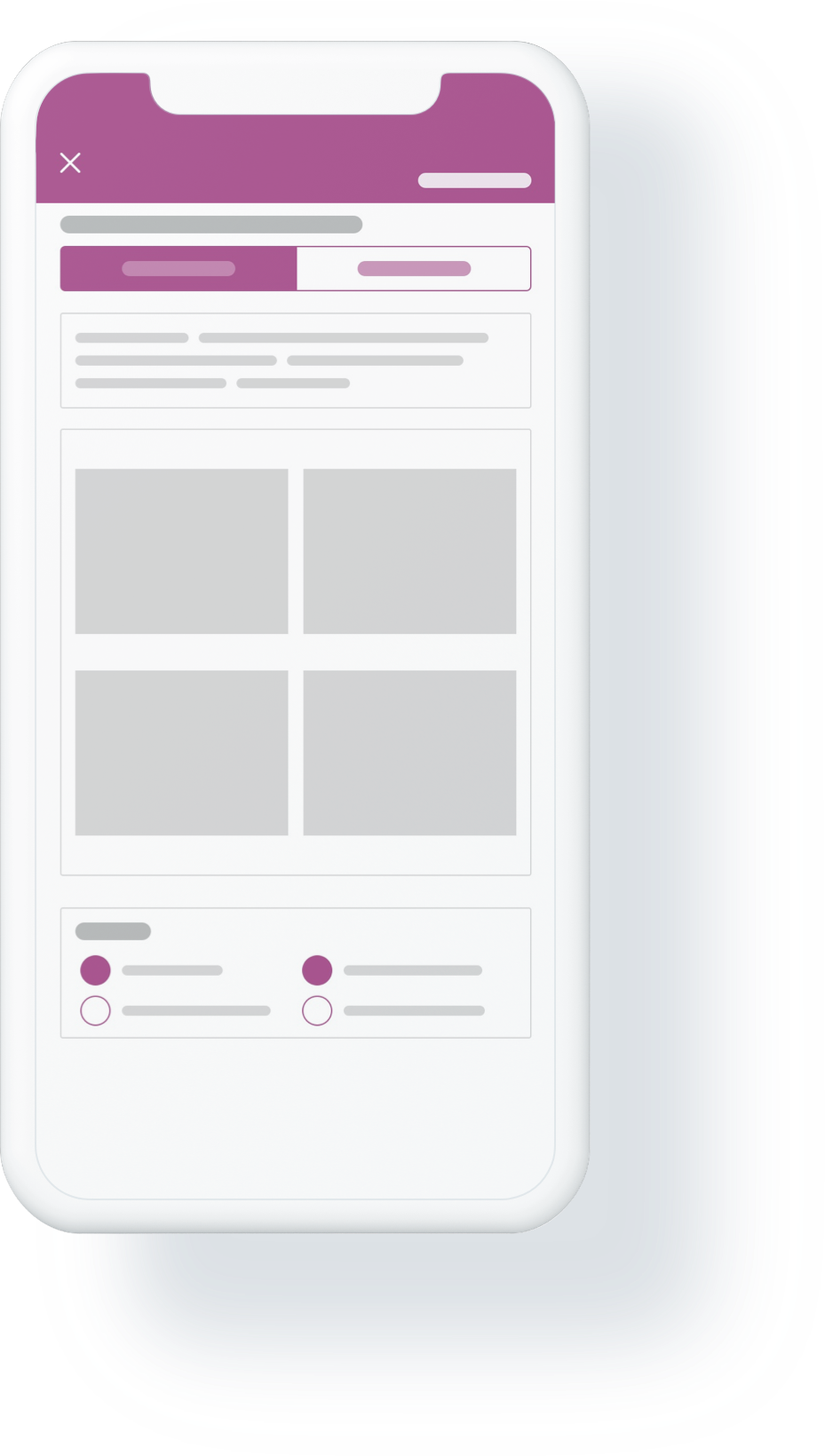 More Features
Language Toggle

Allow reps to send a dynamic message along with the vehicle profile that is in the native language of their customer.

Facebook Connect

Maximize the power of Facebook by having reps link their Facebook accounts to their Mobile Dealer app.

Dynamic Filters

Supercharge your reps with dynamic filters and they will locate the right vehicle for each customer in a lickety-split.

Multi Rooftop

Give access to the inventory of multiple Rooftops to those reps working in multiple stores.